"vampire" by Olivia Rodrigo
We are in a weird time in music right now. Streaming and social media have completely changed how artists are marketed and how they make their money. Artists are more accessible than ever due to social media, and decreased revenue from record sales have forced the biggest artists in music to tour nonstop. There was also a report recently that label executives are nervous about the lack of new stars rising in the past few years. However, one of the few breakout artists that has arrived recently is Olivia Rodrigo and my has she arrived in a big way. She released her debut single, "drivers license", at the beginning of 2021 and never looked back. Her debut album went 4x Platinum, she had a hugely successful international tour, and she released a documentary chronicling her life and rise to fame. Fans and music pundits alike have been waiting for her follow-up for the past two years and the time is finally here.
Olivia Rodrigo wears black high top chucks in this performance of her latest hit .
"vampire" is the lead single from her upcoming, sophomore album, GUTS. The track was written by Rodrigo and produced by Dan Nigro, the same producer from her first album. The track is an emotional tale of heartbreak and betrayal. The lyrics describe a boy that took advantage of the narrator (presumably Rodrigo). The boy lied to her and used her, eventually leaving her broken and alone. She feels powerless and compares the boy to a blood-sucking vampire.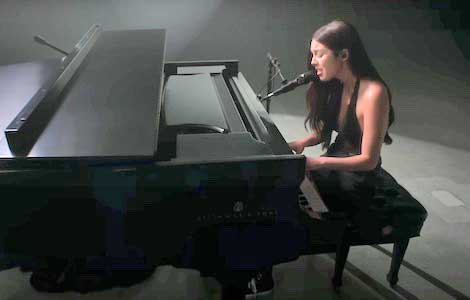 Rodrigo's performance in this video is incredibly raw and emotional.
Two music videos were released with the track: a cinematic one and one of a live performance. This video is the live performance edition which sees Rodrigo perform the song alone at the piano. The setting of the video is a sparsely lit, empty warehouse with only the piano and Rodrigo set in the middle. She is dressed in a simple black dress and black high top chucks. Rodrigo has been wearing her black high top chucks a lot lately, both In the promotional materials for the album and now in this video. Olivia is incredible at being extremely authentic in both her music and performances, and this video is no different. Her vocal performance of this song coupled with her piano playing creates such a raw and emotional showing that it really highlights how much of a true musician and star she is.
Captivating and enthralling for over three and a half minutes.
| | |
| --- | --- |
| | If you have information about specific videos where chucks make an appearance, please contact us at mail@chucksconnection.com. |
Get yourself a new pair of chucks to wear for your performance.