"bad idea right?" by Olivia Rodrigo
Who's the biggest artist on the planet right now? Well, to be honest, that's subjective as you could actually make the case for a few people. Taylor Swift and Beyonce immediately come to mind as they sell out stadiums across the world in two massively successful tours. However, in terms of new music, Olivia Rodrigo may be the one to beat. She's getting ready for the release of her upcoming, highly-anticipated sophomore album, GUTS. Her fans are at a fever pitch with the release of the album's first single, "vampire", and now Rodrigo has delivered single number two. "bad idea right?" is Rodrigo's latest and possibly her greatest song yet as she gives us a taste of what's to come on GUTS.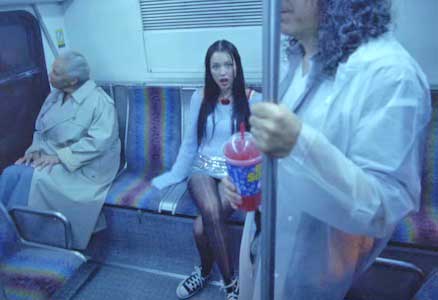 Olivia Rodrigo wears black high top chucks during this eventful night.
This song is on another planet when compared to what Rodrigo has done before. Now her songwriting choices and sensibilities have always been stellar, but this track takes things to another level. The lyrics follow Rodrigo going through the process of deciding on hooking up with her ex. She knows it's a bad idea and that if she tells her friends that is why she is leaving the party she's at they'll be disappointed in her, but she wants to see if she and her ex can rekindle what they had. The genius in this song though comes in the delivery of these lyrics. Rather than her usual emotional singing, Rodrigo employs this fast-paced delivery that borders more towards talking than singing. This gives the verses a feeling of being a stream of consciousness that she is actually going through in the moment. She then goes into the refrain and her voice is angelic as she says what is going on in her brain. It's that moment of clarity before she launches into the pre-chorus and chorus. Those come in and you feel the chaos of the decision as thoughts and feelings collide in a cacophony of vocals. A perfect song for Olivia that she absolutely nails in execution.
Down so bad that you are hiding in the back of a truck in the rain.
The music video begins with Olivia and her friends preparing for a party. It's a rainy night but the party is staying indoors. Everyone is having a great time except for Olivia who we see contemplating leaving the party in her black high top chucks. We swing around the party as the pre-chorus kicks in and finally on the chorus, Olivia is lifted above everyone else as she sings the hook while crowd surfing. She ends up sneaking away and hopping into the back of an unsuspecting driver's pickup truck. She's battered by the rain coming down on her as they drive through the night, but the truck breaks down. She ends up walking and then taking the bus the rest of the way to her ex's place. Soaking wet and cold, she bangs on his door until he opens up. He isn't an actual person thought just a beam of light. She gets in his bed and fireworks go off until he is just a burning corpse. This shows how he went from being a light in the darkness to ruined remains, proving that all along it really was a bad idea.
Definitely a bad idea…right?
| | |
| --- | --- |
| | If you have information about specific videos where chucks make an appearance, please contact us at mail@chucksconnection.com. |
Getting yourself a new pair of chucks is definitely not a bad idea.