"vampire/get him back! (Live at the 2023 VMAs)" by Olivia Rodrigo
MTV Video Music Awards (usually abbreviated as the VMAs) has unironically become a highly coveted award during its 39-year history. Envisioned as an alternative to the Grammy's and a way to showcase that year's hottest music videos (which is what MTV was built on), the show has become "the" awards show for the biggest up-and-coming artists. The show draws millions of teens to 20-somethings each year and artists capitalize on it to showcase their latest and greatest music. With this year's VMAs occurring just a few weeks ago, no one artist fits the moment better than Olivia Rodrigo. She just released her sophomore album, GUTS, to critical acclaim and huge numbers, while also announcing a 2024 worldwide tour. Going into the 2023 VMAs, there wasn't another performance as highly anticipated as Rodrigo's.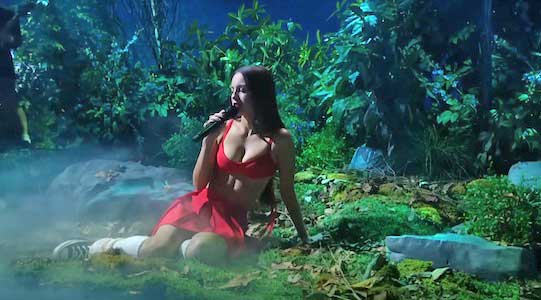 Olivia Rodrigo wears black chucks under her leg warmers throughout her VMAs performance.
Olivia took the stage early on in the show and was immediately greeted by thunderous cheers. Rodrigo was dressed in a red skirt and top with black high top chucks on her feet as the camera passed by lush foliage to focus on her. She's lying on a misty forest set as she sings the beginning of "vampire", the first single off GUTS. As she continues into the song, the stage begins to fall apart. Trees fall over, and then the lighting rig descends from the rafters. Pyro goes off intermittently to give off chaotic vibes and "vampire" ends when Olivia is rushed off the stage by a stagehand. A blue curtain comes down as snippets from her previous songs are played. Then, Rodrigo's latest single starts up as the curtain falls.
The gang's all here in black high top chucks.
"get him back!" is an uptempo pop-rock song with heavy drums and and a harsh guitar riff. Rodrigo semi-raps some portions of the song as she plays on the double meaning of the song's title. "get him back" means that she both wants to get back together with this guy and also get revenge for breaking her heart. In the end, it seems the revenge side wins out. Once that curtain drops down, Rodrigo reemerges with a crew of girls dressed just like her but in a pink color palette. They perform the rest of "get him back!" with her as the crowd cheers on and more pyro goes off. This was a great performance by Rodrigo and she showed why her fans love her so much. She did a performance that was fun and true to her style and didn't try to be anything more than that. Her tour is going to be huge for her and her fans next year, and there are sure to be more performances like this along the way.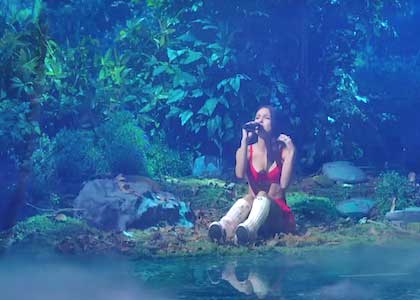 Rodrigo recreates the set of her "vampire" music video on stage.
| | |
| --- | --- |
| | If you have information about specific videos where chucks make an appearance, please contact us at mail@chucksconnection.com. |
Get yourself a new pair of black high top chucks for your concert tour.