"Thousand Miles" by The Kid LAROI
The Kid LAROI is an up-and-coming Australian rapper and singer-songwriter. He first came to fame as a friend of the late rapper Juice Wrld and for his appearances on Juice's Australian tour. Starting out small and slowly growing his audience to an international base, LAROI has really came up over the past three years, truly breaking out with his 2021 #1 collaboration with pop superstar Justin Bieber, "Stay". The song "Thousand Miles" is a non-album single released as part of the leadup to LAROI's upcoming debut studio album. The song peaked at #15 on the Billboard Hot 100.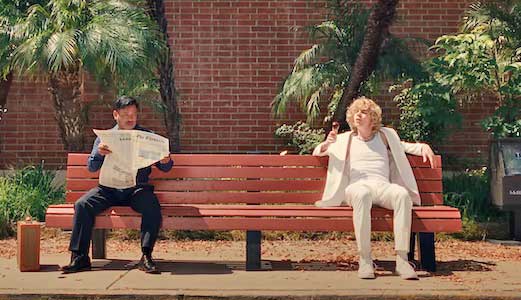 The Kid LAROI wears optical white high top chucks when he is the good version of himself.
LAROI really didn't waste any time doing the whole rap-to-pop crossover. This is a straight-up pop song in the mold of Post Malone. It really does sound like it could be a Post Malone B-side from his latest album. The song is about LAROI's recent string of relationships and how he knows he isn't worth sticking around for. So much so, that he croons on the chorus that if he was her, he'd stay a "thousand miles away".
The definition of "Mr. Steal Your Girl" wears red high top chucks .
The music video begins with The Kid LAROI ordering a coffee. He is dressed in an all-white ensemble that features optical white high top chucks. While he talks to the barista, the "evil" version of Kid LAROI ties up his feet with a rope that's connected to a red muscle car. This "evil" Kid LAROI is dressed in all-red with red high top chucks on his feet. He speeds away and yanks the "good" version with him, dragging him behind his car for miles. Later, the "good" Kid LAROI is sitting on a bench with a stranger while the "evil" version lifts a red piano above him with a crane. This back-and-forth goes on for the rest of the video, with "evil" LAROI constantly trying to take out the "good" version, eventually ending with "evil" LAROI operating on "good" LAROI and putting him in a full body cast. This is finally enough to keep the good guy down and "evil" LAROI leaves with the barista from the beginning of the video. It's a fun video that doesn't really have anything to do with the song but it serves the purpose of offering cool visuals.
The "good" Kid LAROI wears white.
| | |
| --- | --- |
| | If you have information about specific videos where chucks make an appearance, please contact us at mail@chucksconnection.com. |
Get yourself a new pair of high top chucks for your music video.