"A Good Thing" by Claud
Claud is an American pop singer-songwriter from the suburbs of Chicago. Claud is non-binary and uses they/them pronouns and in their short career, has become known for intimate and emotional "bedroom" pop tracks. Their most well-known songs include "Soft Spot" and "Wish You Were Gay". Claud was the first artist to sign with Phoebe Bridgers' record label Saddest Factory Records and released their debut album, Super Monster, soon after. Their latest album, Supermodels, was released on July 14th, 2023 with the single "A Good Thing".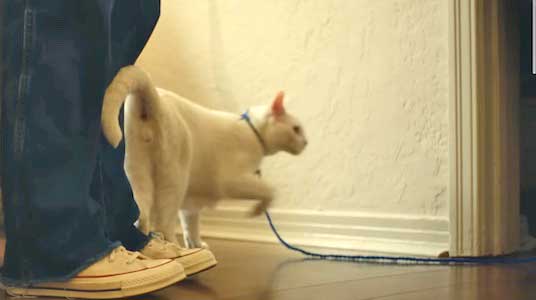 Claud wears unbleached white chucks in this music video.
The song focuses on a relationship that seems to be at its end. The pair feel detached from each other and anger for each other. Overall they can't decide what side they're on. By all accounts, they should call it and break up. However, Claud asks what if they don't deal with any of it and just choose to ignore their problems because they have a good thing going? This is a dilemma that so many relationships end up at, so this song is incredibly relatable.
Dancing through the neighborhood with an unraveling sweater.
The music video begins with a mailman played by ol' Bobby Newport himself, Paul Rudd. Paul is obviously lost but eventually, he stumbles his way to Claud's front door. He also clearly isn't a very good mailman, as he gets all mixed up with the mail. Eventually, he finds Claud's package and gives it to them. They open it and it's a hand-knitted sweater from their girlfriend. They put it on along with some headphones and white chucks and they dance out the door, not realizing that there is a loose thread on the sweater. As Claud dances through a lovely suburban neighborhood, the sweater slowly unravels and by the time they arrive at their girlfriend's house, they're left with nothing but some loose threads hanging onto their shoulders. Now how did Paul Rudd end up as the mailman in this video? Well, Claud explained in a TikTok that the two met at Taylor Swift's Eras Tour. They told Paul about the song named after him on their album, and Paul ended up listening to it, loving it, and coming by the music video set to take part in what ended up being an incredible video.
When you don't confront your problems, you're left with nothing but some loose threads.
| | |
| --- | --- |
| | If you have information about specific videos where chucks make an appearance, please contact us at mail@chucksconnection.com. |
Get a good thing going with a new pair of chucks.