"Tell Me Something I Don't Know" by Selena Gomez
Selena Gomez is one of the most well-known actresses and singers of the past decade. She has starred in countless films and TV series and received critical acclaim for her work. She's also been a huge pop star releasing numerous number-one hits and three great albums. However, she got her start as a Disney Channel star, starring in the TV series Wizards of Waverly Place. "Tell Me Something I Don't Know" is the track that started everything though, as it is her debut single. The song was released as the lead single from Another Cinderella Story soundtrack on August 5, 2008, and peaked at #58 on the Billboard Hot 100.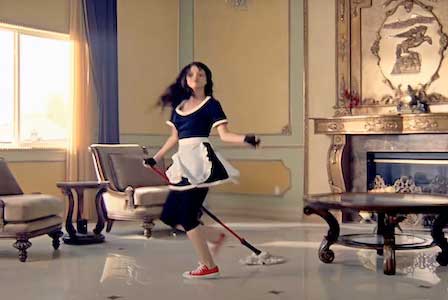 That floor is definitely not getting cleaned.
This song exists in Selena's early catalog when she was Disney's pop-punk princess and it very much fits that musical mode. The song acts as a message to the doubters who didn't believe in Selena when she started. In this song, Selena sings about how she is constantly reminded of how there is a very slim chance of her dreams coming true. However, these doubts won't stop her from pursuing her dream, and she already knows about the slim chances. So she says for them to tell her something she doesn't know cause at the end of the day, she knows they'll be proven wrong.
Selena's red chucks showcase her free spirit.
The music video begins inside of a large mansion where Selena is cleaning the floors. She is dressed as a maid but she is wearing red low top chucks instead of work shoes. These are clearly a rebellious statement as they stand out from not only her outfit but also the setting. This theme is reinforced by Selena getting into an argument with her boss, the head housekeeper. Selena dances with a mop as she ignores her job and continues to annoy her boss. She eventually walks out and reveals her very late 2000s pop-punk outfit that was under her maid clothes. She leaves the mansion and immediately joins a group of hip-hop dancers in the courtyard. They break out into some planned choreography which actually wins over Selena's former boss who watches from inside the mansion. The video is very dated obviously but it is actually really cool to see how far Selena has come from her early days.
Step up to the streets!
| | |
| --- | --- |
| | If you have information about specific videos where chucks make an appearance, please contact us at mail@chucksconnection.com. |
Pursue your dreams in a new pair of chucks.