"What's My Age Again?" By blink-182
Pop punk will never die. It holds such a special place in the hearts of those who listened to it when they were young, and it even makes fans of those who didn't grow up with it. We even see its influences in today's stars like Olivia Rodrigo. Blink-182 is as big a part of that legacy, having sold over 50 million albums and written several major hits. The band was formed in Poway, California, in 1992 and is comprised of members bassist/vocalist Mark Hoppus, guitarist/vocalist Tom DeLonge, and drummer Travis Barker. Their song "What's My Age Again?" is one of their biggest hits and was released in April, 1999 as the lead single from the group's third studio album, Enema of the State. The song is a pop-punk classic and a testament to the genre's never-grow-up attitude.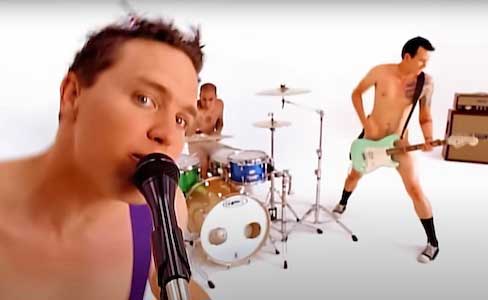 Tom DeLonge wears black low top chucks in this music video.
The song, like most blink-182 songs, is an up-tempo pop-punk record. However, unlike most singles, it is quite short, clocking in at two minutes and twenty-six seconds. The song is known for its arpeggiated guitar opening which follows the song's chords in playing the root of each chord. The opening is iconic and is considered tricky to perform because of its quick, articulated nature which makes it difficult to skip over the strings properly. Lyrically the song deals with the "Peter Pan" complex, which is when an adult acts immature and like a child. The lyrics show how immature the subject acts as he repeatedly asks what his age is.
Watch out for free-roaming bananas.
The music video is an MTV and VH1 classic and seemed to always be playing back when those channels actually played music videos. The video begins with a closeup of the band from the chest up. They are clearly shirtless and running but as the camera zooms out, we see that they are indeed totally naked. They are wearing shoes though, and we see that Tom DeLonge is wearing his favorite black low top chucks which really stand out for obvious reasons. As they run through the streets of Los Angeles, everyone stops and looks, again for obvious reasons. There are also shots of the band performing the song in a blank white room, still naked but now with their instruments covering them up. Back on the streets of LA, the band continues to cause chaos on their run, eventually making their way through commercials and daily news programs. The video is so punk rock and anti-establishment, and it perfectly captures the song's aura of never growing up. Classics are classics for a reason, and this video and track are no exception.
The band interrupts a much more tame music video while on their run.
| | |
| --- | --- |
| | If you have information about specific videos where chucks make an appearance, please contact us at mail@chucksconnection.com. |
Be a kid again in a new pair of chucks.