The summer of 2014 is shaping up to be quite fancy…at least if you're a fan of puns and you've turned on the radio. Hailing from Australia, Iggy Azalea is a bold blonde who knows how to rap. You can't turn on a morning talk show, MTV (wait never mind…they're strictly reality shows now…), or the radio, you're sure to hear her unmistakable voice in "Fancy". The party-themed lyrics suggest that the video will involve just that—a wild party with scantily clad girls and PDA galore. But if you check out YouTube you'll see that that's only sort of the case.
A student listening to Iggy's speech.
While there are short skirts and even shorter shorts, you gotta hand it to Iggy: she does this video in a tasteful way. Taking place in a high school, she starts out standing in front of her class giving a presentation to a group of bored looking students before heading to gym class. We see gossiping girls that break into a choreographed dance, and groups of guys checking Iggy out as she struts down the halls of lockers. Now there is still a party scene, but it's brief and focuses more on the groups of guys and girls dancing along to the song.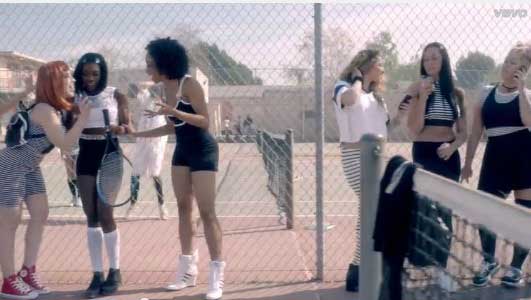 Some girls gossiping during gym class.
"Fancy" is by no means a song that appeals to everyone, however, the video—though still directed towards a specific, younger audience—is much more universal. With its high fashion outfits and minimal twerking it's tasteful. It's fun. It's unique. It's fancy!
 Iggy passing a girl wearing chucks in the hall.  
| | |
| --- | --- |
| | If you have information about specific videos where chucks make an appearance, please contact us at mail@chucksconnection.com. |
Get yourself a fancy pair of chucks by clicking on the links below.