"The Walker" by Fitz & The Tantrums
You may have heard it on alternative radio stations, or perhaps you heard it during Ellen DeGeneres' Academy Awards campaign. No matter what, it's tough to deny that Fitz & The Tantrums' "The Walker" is catchy song that'll have you whistling (or wishing you knew how). But as if the song wasn't already good enough, it's got a great video to match.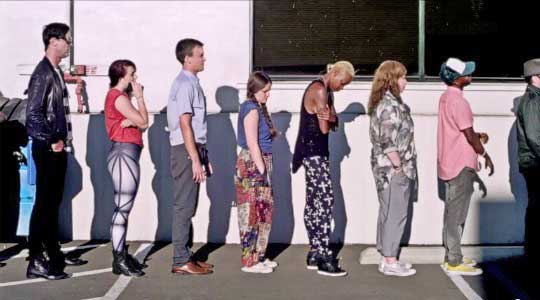 Waiting in line at the DMV.
Right off the bat you'll be pleased to see that this is potentially one of the most relatable music videos of all time. It starts out with a long line of people at what appears to be a DMV; a situation that just about all of us have been in. The kicker, though, is that while just about all of the waiting customers stand perfectly still with zombie-like expressions on their faces, there's one man who can't seem to stop fidgeting around. His eyes dart back and forth, beads of sweat drip down his forehead, and then it finally happens: he jumps out of line and begins to do what all of us, deep down, wish we could do when we're bored: he dances.
Dancing the stress away.
From then on things become somewhat musical-esque with town citizens joining our hero's dancing as he walks by them. It's energetic, it's happy, it's full of chucks. The only downside is the ending, in which the viewer is taken back to the beginning DMV line with all the "zombies", but this time the main dancer joins in with the blank stares. Despite the unhappy ending, though, the majority is upbeat enough to be worth a look for anyone wasting time on YouTube!
| | |
| --- | --- |
| | If you have information about specific videos where chucks make an appearance, please contact us at mail@chucksconnection.com. |
Take the stress away! Get yourself a new pair of chucks by clicking on the links below.