"Call Me Maybe" by Carly Rae Jepsen
In her classic, claim to fame music video "Call Me Maybe," Carly Rae Jepsen sings, dances, and desperately attempts to gain the attentions of a hunky, godlike young man with a chiseled jaw bone and unreal set of abs.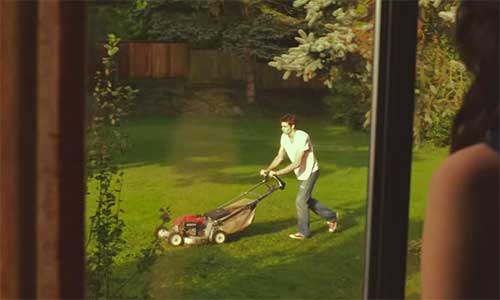 With his red chucks, this young man is irresistible
In a retelling of the classic tale of a carwash love story, the music video takes the girl meets boy narrative and spins it on its head to a tune that is as bouncy and uplifting as it is catchy. The lighting, the setting, and even the almost cartoonish expressions on the characters' faces are all animated and energetic. To top it all off, chucks, both red and black, are featured throughout the video.
Black chucks worn by the guitarist in Carly's band.
Interestingly enough, the video ends with the hunky intended love interest giving his number to Carly's lead guitarist and even more interesting is the fact that both men are sporting chucks. Despite her best efforts, Carly just can't fight that chucks connection!
The love interest watches the band perform.
| | |
| --- | --- |
| | If you have information about specific videos where chucks make an appearance, please contact us at mail@chucksconnection.com. |
Get yourself a pair of sexy red chucks by clicking on the links below.