"Angels" by Chance the Rapper
Chance The Rapper is one of rap's brightest young stars, displaying a wide array of witty lyrics and meaningful content. His most recent album, "Coloring Book", shot up that charts quickly upon release right past hip-hop heavyweights Drake & Kanye West. The 22-year-old Chicagoan is also a pillar in his community. He's put on the free Teens In The Park Music Festival, hosted Open Mike Nights, and has spearheaded the #SaveChicago movement, which resulted in 48 continuous hours without a shooting. Needless to say, the man is loyal to the city that made him, and that is never more evident than in the music video for his latest single, "Angels".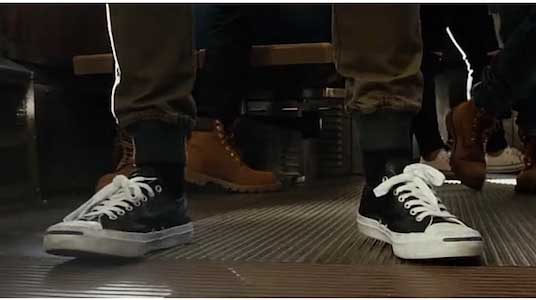 Chicago Jack Purcells.
The video begins with Chance flying through the Chicago skies as a superhero-esque flyboy (a flyboy is a popular Chicago street art character). He lands on a train carrying hook singer Saba and other Chicagoans. He raps about how the city of Chicago has been down with him since day 1, and how much that has affected his will to stay by its side as it's become the most dangerous city in America. Chance's message is that even through his city's bad reputation, he knows that he is surrounded by angels who can help lead it to a better tomorrow.
Rocking chucks on the train.
Chuck Taylor's are all over this video. We see multiple people on the Chicago subway train wearing them proudly dancing to Chance's infectious flow. We also see lead dancer Ian Westwood rocking a pair of black and white low top chucks, as he shows off his moves on Chicago's LaSalle Street. With positive vibes and positively styling shoes, "Angels" is a must watch video for anyone who wants to get a glimpse of the future of hip-hop.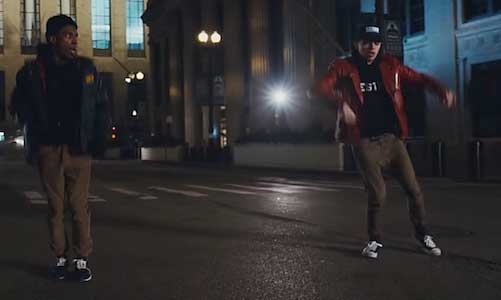 Ian Westwood dancing in his low tops.
| | |
| --- | --- |
| | If you have information about specific videos where chucks make an appearance, please contact us at mail@chucksconnection.com. |
Get yourself a pair of dancing chucks by clicking on the links below.