A ChucksConnection TV Series Feature


Emma Myers wears pink and orange high top Converse All Star "Chuck Taylor" sneakers in the series.


Wednesday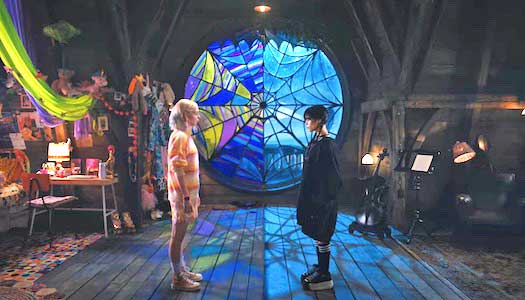 Wednesday's roommate and "best friend" Enid Sinclair wears chucks in the show.
The Addams Family has been a staple of pop culture for over 80 years now. This wonderfully macabre, nuclear family with a love for the strange and scary was created by cartoonist Charles Addams in 1938 and went on to be the subject of various incarnations in both TV and film. Comprised of parents Gomez and Morticia, their children, Wednesday and Pugsley, and close family members, Uncle Fester and Grandmama, their butler Lurch, and the disembodied Thing, this family might just be the quintessential All-American family. That being said, the morbid Wednesday has always held a special place in the hearts of fans. This led to Netflix greenlighting a brand new series eponymously named after the braided, gothic child. Created by Alfred Gough and Miles Millar, and executive produced by Tim Burton, Wednesday stars Jenna Ortega, Gwendoline Christie, Riki Lindhome, Jamie McShane, Hunter Doohan, Percy Hynes White, Emma Myers, Joy Sunday, Georgie Farmer, Naomi J. Ogawa, Christina Ricci, Luis Guzman, and Catherine Zeta-Jones. The series premiered on November 16th, 2022 to rave reviews and became an instant phenomenon.
Wednesday and Thing search for clues in the tightest of spaces.
Wednesday Addams (Ortega) is just your normal, typical high school student. Ok, that's a lie. Wednesday is actually a macabre, emotionless teenager who has a love for all things weird, spooky, and dark. She goes to high school with her little brother Pugsly (Isaac Ordonez), who is bullied maliciously. This leads to Wednesday sticking up for him by letting two bags of man-eating piranhas loose in the school pool to punish his bullies. She is subsequently expelled from normal high school and is enrolled in Nevermore Academy. She is taken there by her ever-loving and doting family. You know exactly who they are. They're creepy and they're kooky, mysterious, and spooky. They're all together ooky. The Addams Family! Her father Gomez (Guzman) and mother Morticia (Zeta-Jones) both went to Nevermore in their youth and think it'll be a great fit for their daughter. Wednesday is looking to carve her own path and get away from her parents' "smothering" influence. However, on top of starting at a new school, Wednesday has also been plagued by uncontrollable psychic visions.
The "Normies" at Wednesday's old school also wear chucks.
At Nevermore, Wednesday meets the principal and former schoolmate of her mother's, Larissa Weems (Christie). Weems is welcoming but quickly becomes tired of Wednesday's constant trouble causing. Wednesday also meets her roommate Enid Sinclair (Myers), a werewolf who loves all things colorful and whimsical. Enid wears brightly colored chucks with her fabulous wardrobe as she tries to become Wednesday's best friend. Enid also shows Wednesday around the school, introducing her to the different types of "Outcasts" that inhabit it. There are sirens, gorgons, vampires, and super-powered students everywhere and Nevermore is welcoming to them all. The nearby town of Jericho, Vermont however, is not so welcoming. The town has a long and tragic history with the Outcasts, and when people start getting murdered in the nearby woods, the town Sheriff (McShane) suspects that one of the students of Nevermore is behind it. Wednesday discovers a prophecy that shows her involved in the destruction of the school, and vows to solve the mystery of the murders along with what this omen of woe means.
The differences between these two are shown in their color palettes and styles.
This show is so incredibly fun. The sets, costumes, and theming are so immersive and perfect for the story. Jenna Ortega is an absolute star. She is magnetic as Wednesday and she is the focus of all her scenes. You can' take your eyes off her and she embodies this character so well. She's able to convey such a wide range of emotions without ever showing emotion on her face or even blinking. The side characters are also very memorable and they help you buy into this macabre world. The mystery is also very compelling and the climax pays off a seasons worth of detective work from Wednesday really well. Definitely check this show out if you haven't already, and get ready for the highly anticipated Season 2. Stay spooky, kooky, and ooky in the meantime. Snap snap.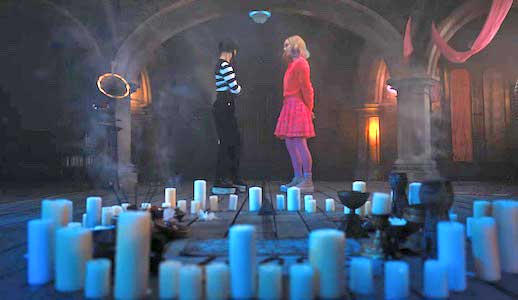 Wednesday's seance doesn't go as planned.
Do you know of other television shows or series where a main character wears Converse All Star Chuck Taylors? Can you describe a favorite episode or two from the series, or do you have additional information about the shows described here already? Do you have videotapes, DVDs or shot captures of episodes from any of the series that haven't been given an in depth article on this site? If you do, email us at chucksphotos@chucksconnection.com and we will add the information to the television pages.